The MESYS Shaft Calculation can be extended to shaft systems. This allows the calculation for whole gearboxes considering gears, shafts and bearings.
The shaft system calculation allows: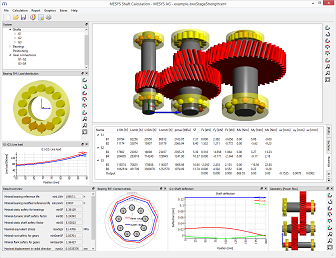 Calculation of shaft systems like gearboxes
Calculation of planetary gear sets
Connection of shafts by gear pairs (helical, bevel or worm gears)
Connection of shafts by belts
Calculation of rotation speeds
Calculation of load distribution using a coupled FEA beam model
Interface to programs for gear design:

Dontyne GPS (from version 5)
Hexagon ZAR1+ (from version 20)
KISSsoft (from version 03/2013 SP3, module CC1 required in version 03/2014)

Graphics for line load over the width if gears
Definition of load spectra on system level
Configurations to support variants in power flow
Natural frequencies and critical speeds on system level coupled be gear pairs
Display of mode shapes on system level, 3D animated
3D-elastic housings and planet carriers
3D-elastic parts with consideration of deformations of bearing rings and gear bodies for cylindrical gears
REXS-Import/Export for data exchange with other programs
All features from the basic shaft and bearing calculation as bearing life according ISO/TS 16281 and shaft strength according DIN 743
Find here some template files for calculation examples, a short description of them, and a full report example.